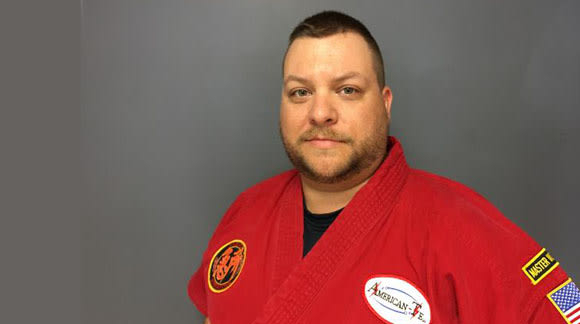 Anthony Rotella
Shihan Anthony Rotella joined the Learning Center for Martial Arts (now Excel Martial Arts) in 1988 at the age of 4. From a young age he showed consistency that would mold him into a talented, life-long martial artist. Anthony, a top level student for years, received his 1st Degree Black Belt in 2000. Additionally, Anthony joined Kyusho International™ and holds a high level certification, while training directly with Master Evan Pantazi.
Anthony Rotella currently holds a 6th Degree Black Belt. In 2023, Anthony was awarded his 6th Level in Kyusho International™ and 6th Degree Black Belt in Kyusho-Jutsu Kokusai Shihankai and American-Te®. Consequently, Anthony was awarded the title of Shihan (teacher of teachers) and is a Master Level Instructor at Excel.
In addition to martial arts, Anthony is also trained in firearms, joined Force Options USA in 2010, and had graduated Advanced Tactical Hand Gun (TOPGUN award), Advanced Tactical Carbine, Advanced Tactical Shotgun, Advanced Tactical 3 Gun course, Advanced Force on Force and Long Range Precision Rifle, under Master Fred Mastison.
Currently, Shihan Anthony Rotella teaches on Thursday nights (Advanced Black belt) and trains Sunday Mornings (Kyusho) in Mansfield.
RANKS
5th Degree Black Belt in American Te® & Aiki Jitsu
Level 5 Practitioner Kyusho International™
5th Degree Black Belt Kyusho-Jutsu Kokusai Shihankai
4th Degree Black Belt Ryukyu Kempo/ Kyusho Kempo
AFFILIATIONS
Currently studies in semi-private classes with Shihan Evan Pantazi (2001-present)
Assists in training and testing of Excel Black Belt Levels (2003-present)
Teacher at Excel Martial Arts, Mansfield (2003-present)
Awarded the title of Shihan (Master Level teacher of teachers) in 2016