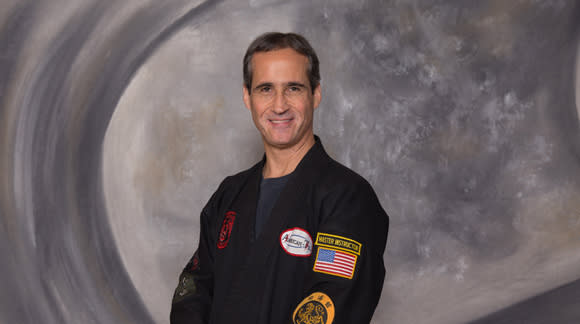 Marshall Wolff
Shihan Marshall Wolff is one of the longest tenured instructors at Excel Martial Arts, having trained many of its current day instructors from their beginning days as a white belt. Marshall began his training in 1977 under the instruction of Sensei Brian Murnane at the Massapoag Martial Arts in Sharon, MA.
In 1980 Marshall followed Steve Schatvet, the founder of LCMA, to train in Mansfield, Canton, Sharon, and Norwood. In 1986, Marshall received his 1st Degree Black Belt and began teaching. With diligent training, coupled with great talent, Marshall gained his 2nd degree (1989) and 3rd Degree (1991), under Steve Schatvet. Marshall, seeking to achieve even more began training with Professor Nick Cerio, and received his 1st Degree (1989), and 2nd Degree (1991), in Nick Cerio's Kenpo.
Marshall WolffAfter an 8 year hiatus to develop his career in photography, Marshall returned to Excel, studying the new American-Te Program with John Hagman, Cody Robyn, and Vinnie Guerrini, and the Pressure Point art of Kyusho, with Shihan Evan Pantazi.
Since returning, Marshall has achieved his 4th Degree (2004), and 5th Degree (2008), as well as Kyusho Ranking PL-1 (2003), PL-2 (2005), PL-3 (2008), and PL-4 (2010), and Master title in 2010.
Currently Master Marshall Wolff trains in Kyusho Tactical Applications Course and the Tactical Handgun & Carbine Course from Force Options USA.
Master Marshall Wolff is a Master Level Instructor who is active in the certification and ranking of high level Black Belts.
RANKS
6th Degree Black Belt American Te®
6th Degree Black Belt Ryukyu Kempo/ Kyusho Kempo
6th Level Practitioner Kyusho International™
5th Degree Black Belt Kyusho-Jutsu Kokusai Shihankai
AFFILIATIONS
Marshall Wolff Studied in semi-private classes with Kenny Wagner in Kickboxing (1986-1989)
Studied in semi-private classes with Professor Nick Cerio in Cerio's Kenpo (1987-1991)
Studied in semi-private classes with John Cabrall in Jiu-Jitsu and Judo (1988-1990)
Studied in semi-private classes with Professor Tom Sotis in Filipino Martial Arts (1990-1993)
Currently studies in semi-private classes with Shihan Evan Pantazi (2001-present)
Assists in training and testing of Excel Black Belt Levels (2003-present)
Teacher at Excel Martial Arts, Norwood & Mansfield (2003-present)
Awarded the title of Shihan (Master Level teacher of teachers) from Evan Pantazi (2013)