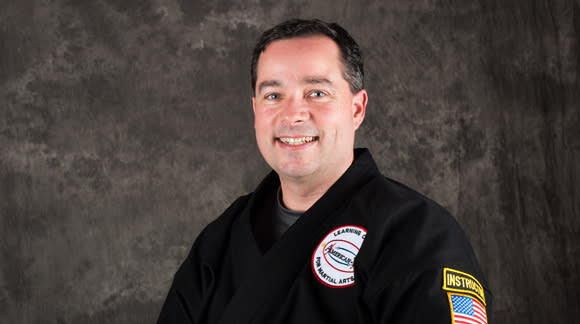 Paul Frost
Sensei Paul Frost is a 3rd Degree Black belt at Excel Martial Arts. He began his journey soon after his children began training.
Paul helped coach his son and daughter to their Junior Black Belts and also many students of Excel. Paul earned his 1st Degree Black Belt in 2014.
After joining our Kyusho program, he began incorporating the pressure point skills into his training and earned his 2nd Degree in 2016. Paul trains regularly mornings with Sensei Dave Skinner and attends classes in the evenings as well.
Paul is an talented wood-worker who has lent some of his talents to works inside the dojo. In addition to his work as a martial arts instructor, Paul is a computer gaming engineer. Sensei Paul Frost can be seen in Mansfield and teaches classes Saturday mornings at our Mansfield Dojo.
RANKS
Sandan (3rd Degree) Black Belt American Te®
Level 5 Certification Kyusho International™